Arizona Fish Report
Arizona Fish Report Fish Report for 8-17-2013
The fish that are the most active in Arizona are Largemouth Bass & Catfish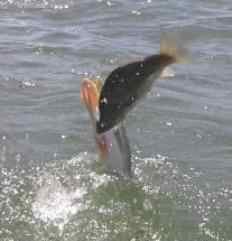 by Arizona Game & Fish Department
8-17-2013
Website

This is a good time to plan your September kick-off getaway. Labor Day is almost here.

In the high country, warm-water temperatures are pushing trout into deeper water. Drop down to the desert lakes, and you'll find largemouth bass feeding more actively on shad in the mornings. Days are getting shorter, night fishing is a prime option, and the top-water bite is picking up.

Here's a tip for this weekend: Tonto Creek and the East Verde River below the Mogollon Rim are great bets. Tonto Creek has been stocked with a bunch of 10-16-inch rainbow trout and the East Verde is receiving a huge stocking. When fishing these creeks, it's not necessary to bring the master tackle box. Fish with grubs or grasshoppers if you can find them and float them through the ripples with no weights on a small hook (No. 10 or 12) and light lines (around 6-pound test -- fluorocarbon if possible).

Despite the fishing pressure, Woods Canyon Lake continues to be a hot spot. It's no wonder. The Arizona Game and Fish Department stocks about 55,000 fish per year into Woods. We just stocked another 3,094 rainbow trout into this department-built fishery on the edge of the Mogollon Rim. Nearby Willow Springs is another great bet, although probably crowded as well. Get to both early for a camping spot. Fish deep in the early morning or lake evenings.

If you want to leave the crowds, try Kinnikinick. This spring-fed fishery typically produces a good summer bite, including some nice browns. Float tubes, canoes and kayaks are ideal when fishing here during the summer.

The washboard dirt road across Anderson Mesa usually keeps crowds sparse. Concrete tables and fire rings at campsites are surrounded by pinions and junipers. If you don't get dinner, just head down to Mormon Lake Lodge.

Also just got a report from Jeremy Hoffman, the fishing manager at the north Phoenix Sportsman's Warehouse, who said the fishing is good at Ashurst Lake. Power Bait and salmon eggs are helping anglers get limits. See the details in the full report.

Jump down in elevation for a second. Saguaro Lake is producing some nice bass, and this photo (Photo #!) of a largemouth caught near Bagley Flats on a crankbait is a bit of proof. Bass are chasing shad in the mornings by the no-wake buoys, but you might have to battle boat traffic.

If you're looking for big bass, reports of plenty of 5-10 pounders are coming from Canyon Lake. The recent hot bite off the cliff walls is about over. Try reaction strikes with top-water lures and jerk baits when fish are active.

Also, the striper night-fishing bonanza has been "spotty" at Lake Mead. Capt. Don Mitchell of Striper Hunters said 1-2 pound stripers are gobbling cut gizzard shad, while cut anchovies and sardines are producing stripers and catfish.

Oh, the full moon is Aug. 21.

Let's not forget that this report is possible each week thanks to a giant collaboration of folks from area tackle shops, anglers like you who send photos and reports to BFishing@AZGFD.gov, and the regional report editors: Richard Dreyer in Pinetop, Chuck Benedict in Flagstaff, Gregg Cummins in Kingman, Russ Engel in Yuma and Amberle Jones in Tucson.

These department editors keep their ears open for the latest fishing tips even though seasonal techniques and patterns change minimally. A big thank you to all the contributors and especially you recreational anglers - your participation and contributions to wildlife conservation helps perpetuate and protect our outdoor heritage.

So consider these options when making Labor Days plans. Before heading to the high country, check out the summer trout stocking schedule, and our Fish&Boat Arizona map.

Finally, happy belated 75th birthday to John Smith Photo #2! On the anniversary of his earthly debut, Smith, fishing last week at Lake Pleasant from 7 p.m. to 4 p.m., about 25-35 yards from shore using live bait, caught a few 9-15-pound flathead catfish.

If you didn't know there were some big flatheads in Pleasant, as well as Bartlett Lake and the lower Colorado River, it's time to get out and see what the latest catfish craze is all about.

Pictured Above: I know it sounds like a fish story, but we have the photo to prove it.

Robert N. pulled off quite the feat Aug. 8 at Roosevelt Lake. He was trolling cliffs at Wendy Hill and hooked two largemouth bass at same time on same lure.

Good luck, and put safety first.

More Reports
Arizona Game & Fish Department Reports
for Friday, August 9th, 2013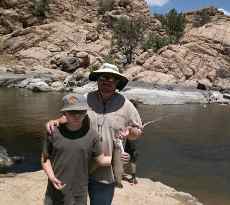 Arizona Fish Report
:
This is not the best time for Arizona fishing, your best bet is in the high country
:
Exciting changes ahead to includes new Arizona licenses, names and locations
Woods Canyon Lake
:
Anglers report from Arizona's Woods Canyon Lake
Lake Powell
:
Anglers Report from Lake Powell Arizona
Big Lake
:
Anglers Report from Big Lake Arizona
Crescent Lake
:
Anglers report from Crescent Lake Arizona
Lyman Lake
:
Monty Lambert, Park Manager at Lyman Lake State Park, gave this report for Lyman Lake
Woods Canyon Lake
:
Anglers Report from Woods Canyon Lake Arizona
Watson Lake
:
Anglers Report for Watson Lake arizona
Becker Lake
:
Arizona Game & Fish Department received a question about the trout situation at Becker Lake
:
Catfihing is tough but Bluegill fishing is good at the Arizona Urban Waters
Roosevelt Lake
:
The key to fishing at Roosevelt Lake is to find the shad
:
Game and Fish hosting annual Mormon Lake elk viewing workshop

Arizona.FishReports.com © 2023. All Rights Reserved.
Website Hosting and Design provided by TECK.net