Arizona Fish Report
Lake Powell Fish Report for 10-30-2023
Lake Powell Fishing Report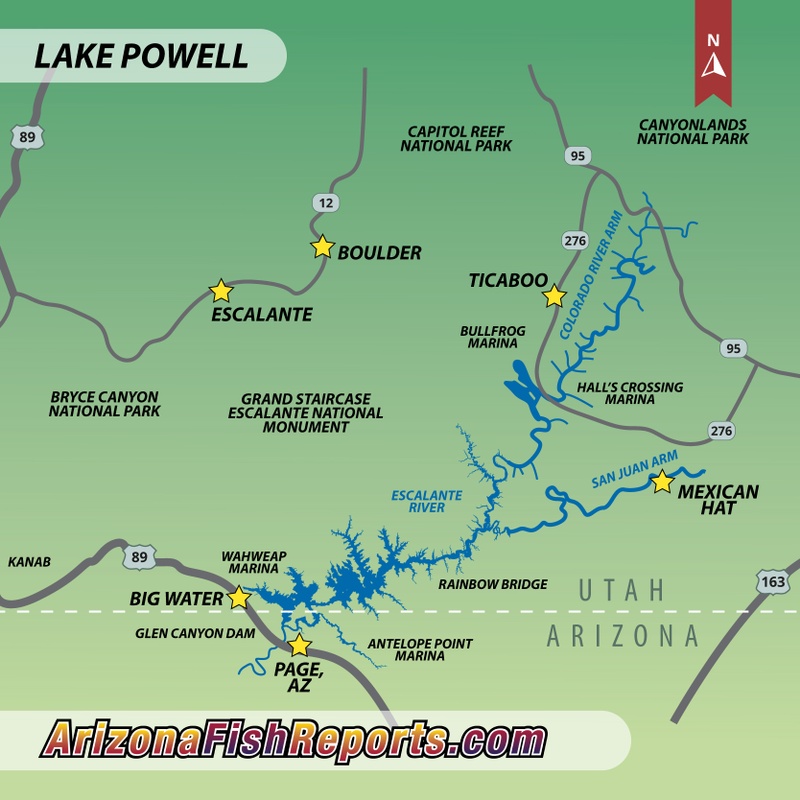 by Arizona Game & Fish Department
10-30-2023
Website

 October 17 report courtesy of Dan Keller, www.wayneswords.net. Water temperature 68-72 F. Lake Elevation 3,572.96 MSL (and stable). Both Wahweap and Stateline Auxiliary ramps are open. The wife and I were able to get out for a weekend fishing trip from Oct. 14-16. The bite was very slow in the southern end of the lake around Wahweap Bay and by the dam. We had better luck around Labyrinth Canyon and in the back of Padre Bay where all the bite was steady. We caught a mixed bag of species, catching striped bass, smallmouth bass, largemouth bass, bluegill, walleye, and green sunfish. The best success we found was casting Rat-L-Traps and shad pattern crankbaits around schools of threadfin shad. Smallmouth bass were the hot species and the most willing to bite. We had hoped to fill our cooler with striped bass, but they were not in large schools and we could only persuade one or two to bite per encounter. Anchovies were simply not working at all and we even watched a catfish turn down our anchovy bait in shallow water. All fish caught were fat and healthy though, which is promising for future fishing in Lake Powell. 

Surface water temperature is remaining in the mid to upper 70-degree range, keeping fish in their summertime routine. However, fall fishing is creeping in, bass are especially starting to respond to cooler nights and shorter days. On our sampling trip last week, we spent one evening fishing the Rincon and half a day in the Escalante. Smallmouth bass fishing in the Escalante was FAST using Ned rigs in many colors, bubble gum and green pumpkin probably the best. Also, a drop shot with Zoom fluke worked great. We caught a few largemouth targeting them in deeper water with 
spinnerbaits. We used darker colors on the spinnerbait skirts (black/blue or brown with purple) and a shad-colored swim bait used as a trailer (3.25" Strike King, electric shad color). The key for largemouth was casting to deeper water and retrieving slowly. The following day we fished Good Hope Bay near Red Canyon and fishing was much slower there. We did have a storm roll past that held more wind than water. We didn't fish long due to the wind but still I was surprised we didn't get more bites. I have seen recent reports indicating slower fishing at Good Hope compared to areas south of Bullfrog. Our experience concurs with these reports. 

We ran a 2.5 mile hydroacoustic survey at Wahweap, Rincon, Bullfrog, and Good Hope Bay. For this survey we use a powerful echo sounder paired with software that can identify and count fish based on a predetermined length range, allowing for estimation of fish of various sizes. We completed this survey during the new moon phase when shad are feeding near the surface, with the goal of estimating pelagic shad density. We still have more work to process and quality-check the data, however, I will say that the numbers of shad at Good Hope are down (compared to historical average), while numbers are up at Bullfrog and Rincon. So, what could be happening here? Productivity can decrease near inflow areas as the sediment load decreases light penetration. Considering the low lake level and that early this spring the Colorado River channel extended down near the Horn a short distance above Good Hope Bay, the upper reservoir was blasted with sediment during heavy runoff this spring. Sediment-laden water produces less phytoplankton and zooplankton, food for shad. Also, low water conditions in previous years would have concentrated 
stripers and shad, explaining the fat bellies and girth on the 2– to 3-year-old stripers as well as the decline in shad density. The lake coming up 65 feet this year resulted in vast amounts of flooded vegetation, this will boost shad numbers, however we should expect a few years delay for this increase to be noticeable. Shad numbers will increase over the next few years as they now have ample cover to hide, increasing survival. If the lake had not received this recent influx of flooded vegetation, we might have been heading for a cycle with low shad numbers and a rapid decline in striper condition. 

We did see one quick boil in the main channel near Rock Creek and caught three really nice stripers before they had to dive deeper into cooler water. The location of stripers this time of year is driven by the presence of shad and suitable temperature and dissolved oxygen levels. During summer, the warming of the surface of the water by the sun causes water density to vary and results in thermal stratification. Cooler, denser water settles to the bottom, a layer of warmer water floats to the top. A thin middle layer called the metalimnion (or thermocline) separates the top and bottom layers. Most anglers are familiar with the thermocline as it's a place fish hang out in the summer; however, one often surprising fact about Lake Powell is the metalimnion is depleted of dissolved oxygen. This henomenon typically sets up in July and continues through September before breaking down in October. At all the main channel sites we monitored last week (Wahweap, Padre Bay, Rincon, Bullfrog, Goop Hope), this zone of low oxygen extended from approximately 30 to 60 feet. When 
searching for schools of stripers with your electronics, if you see a large school of fish below 60 feet, you are likely seeing stripers and jigging spoons above the school is a good tactic. Using cut anchovies will increase your catch as the oils and scent will pull stripers in, even into water zones that are not ideal. By the end of September or early October, these stratified layers begin to break down. On a large reservoir, the rate and time this occurs will vary by location, however in time the surface will cool and dissolved oxygen in the metalimnion will increase. This is one reason why boils often pick up in the fall. If you're not lucky enough to be in the right spot for boils, trolling mid-range lures like Shad Raps or Pointers will produce fish. 

We all know trusting the 14-day weather forecast is a gamble, however it's certainly worth considering when trying to nail down the best time to be at the lake. We have a cold front this weekend then it warms up again. The reports I'm looking at call for air temperatures to remain in the mid 80's for about the next 10 days, then the highs drop into the 70's and nightly low temps dip into 50's. This is when water temps will really respond and fishing will improve lakewide. I'm no weatherman and I try to live by the advice that the best time to go fishing is whenever you can. Be sure to get out and enjoy the fall fishing, it's almost here!
More Reports
Arizona Game & Fish Department Reports
for Monday, October 30th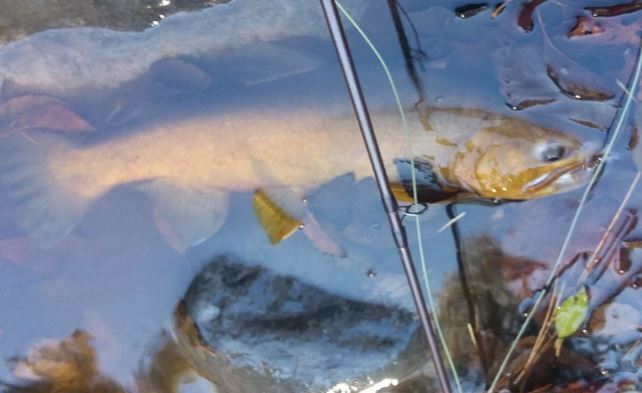 Kaibab Lake
:
Kaibab Lake Report
Cataract Lake
:
Cataract Lake Report
City Reservoir
:
City Reservoir Report
Dogtown Lake
:
Access to the lake is open, but the campground is closed for the winter
Santa Fe Reservoir
:
Santa Fe Reservoir Report
Whitehorse Lake
:
Whitehorse Lake Report
J. D. Dam Lake
:
JD Dam Report
Russel Tank
:
Russell Tank Report
Upper & Lower Lake Mary
:
Upper and Lower Lake Mary Report
Francis Short Pond
:
Frances Short Pond Report
Ashurst Lake
:
Ashurst Lake Report
Kinnikinick Lake
:
The lake is full and turbid
Oak Creek
:
Oak Creek Report
West Clear Creek
:
Smallmouth bass are unlimited harvest in West Clear Creek
Wet Beaver Creek
:
Bass are unlimited harvest in Wet Beaver and Beaver Creeks
Colorado River - Lees Ferry
:
Lees Ferry Anglers Report

Arizona.FishReports.com © 2023. All Rights Reserved.
Website Hosting and Design provided by TECK.net