Arizona Fish Report
Lake Powell Fish Report for 5-12-2021
Prime Time for Bass Fishing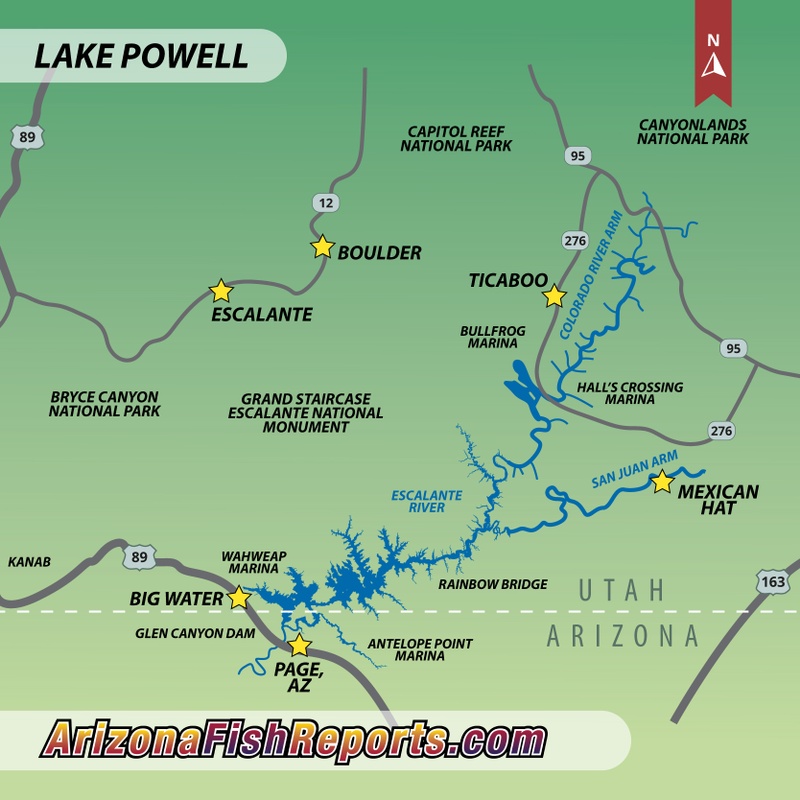 by Wayne Gustaveson
5-12-2021
Website

Lake Elevation 3561
Water Temperature 62-68 F

The falling lake level is slowing down slightly, but there is still more water going out than coming in. The daily water temperature now varies between 62-68 F. This is the spawning trigger for bass in Lake Powell. Expect to find male bass building and guarding nests this week over the length of the lake.

Bass fishing for both largemouth and smallmouth bass is at the springtime peak. With the crazy low water levels, expect to find bass on or under ledges in the side canyons. Rocks provide shade and structure and may be the best habitat to find bass and crappie. There are very few brushy areas where largemouth and crappie prefer to hangout. Occasionally, there will be a wind-blown pile of tumbleweeds in a protected ravine. If the tumbleweeds are in 3 or more feet of water, there will be both large and smallmouth bass hanging around in the weeds. It is more likely to find bass under overhanging rocks. Nest builders may build a nest on a sandy ridge or under the protection of rocky habitat. Old cottonwood trees that have been under water for decades, may also attract bass. Effective bass lures include single and double-tailed plastic grubs, Ned rigs, Senkos and a wide variety of plastic baits.

Fishing for Stripers using bait is red hot! The close spots in the southern lake, such as the dam and Buoy 3 are not as good as the uplake spots. It is better to run further uplake to the mouth of Warm Creek, Gunsight Canyon, Labyrinth Wall, Buoy 25, Rock Creek and beyond. In the northern lake, stripers are at the mouth of Lake Canyon, Moki Wall and mouth of Moki Canyon. To find an active school, watch the graph for fish traces, then chum small pieces of anchovies. Cast a chunk of anchovy out 40 feet and let it slowly descend back to the boat. Chum excites the school and they search for more bait. When your baited hook appears, the striper school attacks, and many fish are caught in short order.

Anchovies are fragrant but soft. A piece of striper meat, filleted off a skinny striper, will stay on the hook much longer if the hook pierces the striper skin. On my last trip, I caught 9 stripers on the same piece of striper meat. If the hungry striper school slows down, use anchovies once more to energize the school. Yesterday, we had a school going strong eating striper bait. Eventually, the school quit biting and I assumed they moved on. I put on another anchovy and the school lit up again. I think the scent of the anchovy energized the school.

If bait is not your favorite, go to the backs of canyons and troll you favorite striper lure to find active stripers. In Good Hope Bay and further uplake, trolling works even better than bait for catching many stripers, walleye and bass. Trolling lures that worked great this week were Strike King 5XD, XRap Shad, and Lucky Craft XD Pointers.
More Reports
4-21-2021
Lake Powell water elevation is 3563 and still going down. Inflow to the lake is 8,000-acre feet while outflow exceeded 22,000-acre feet. The lake is low and still declining which calls for an abundance of caution while navigating any canyon outside of the main channel. Watch for new sand dunes or rock outcroppings to show up at any canyon on the lake. I have mentioned this before but it is worse this week than it was in the last few......
Read More
4-14-2021
April 14, 2021 Lake Elevation 3565 Water Temperature 55-62 F The bad news is that Lake Powell is still declining. Inflowing water yesterday was 10,000-Acre feet. Water released was 22,000-Acre feet. We can see amazing rock and sand structures poke their heads out of the water now, that we have not seen since 2005, the last time the lake was this low. The good news is it only took 3 years for the lake to come back up to 3600 MSL. I am......
Read More

Arizona.FishReports.com © 2023. All Rights Reserved.
Website Hosting and Design provided by TECK.net