Arizona Fish Report
Fish Report for 9-14-2020
AZGFD Fishing Report - September 2020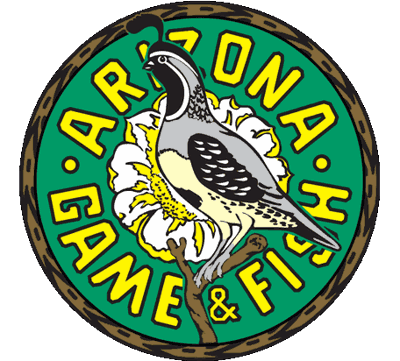 Photo Credit: Courtesy of AZGF
by Arizona Game & Fish Department
9-14-2020
Website

Western Arizona/Lower Colorado River
Lake Mead
Striped bass can easily be caught under crappie lights at night. Try anchoring in around 40 feet and put out your submersible lights. Cut anchovies usually work well. You can fill your ice chest with small stripers. Don Martin recently caught a 32.8-pound striper using this technique. Don't get your hopes up, though. They are usually much smaller.
Lake Mohave
Anglers are doing well for stripers near the dam and telephone cove. Trolling with an umbrella rig has been working the best. The largemouth and smallmouth bass are going after various plastics and some of the spinner baits.
Colorado River - Below Davis Dam
The striper bite along the shores of the Colorado River below the Davis Dam has been very productive. They are running mostly in the 1- to 3-pound range, but now and again we get a nice surprise. When they get over 5 pounds they can peel some line. Our local angler Isaias Gonzales was fishing from shore using anchovies near the end of Yale and landed a nice 7.16-pound striper, 27-3/8 inches.
Lake Havasu
Report courtesy of John Galbraith of Bass Tackle Master via AZ State Parks. Striped bass action is decent and observant anglers can find boils of stripers chasing shad in the morning and late afternoon. Trolling super spooks, sassy shads and white or chrome/blue Rat-L-Traps is currently your best bet. Search for boils from Black Rock & Calif. Bay north to the river entrance. The channel catfish bite is excellent right now and numerous cats are being caught on cut mackerel or squid off deeper points and coves in 15 to 35 feet of water. Smallmouth bass are keeping anglers busy! Try throwing Smoke Sparkle or Green Pumpkin Hula grubs rigged on a 3/8-ounce football jig fished around rocky points and gravel shorelines in 6 to 15 feet of water. The topwater bite is on too! Poppers, Sammys, and Buzzbaits are working well for both smallmouth and largemouth over gravel flats and submerged weedbeds in the morning and late afternoon.
Flagstaff area
Ashurst Lake
Road is open. Stocked with 53,000 trout so far this year. Ashurst was stocked with brown trout two weeks ago and rainbow trout last week. According to the campground host, folks fishing off of the points and deeper areas of the lake are catching trout on garlic PowerBait on the bottom. Lures and flies are working for folks fishing from boats. The campground is open.
Francis Short Pond
No report. The pond is still too warm for trout, so this week's trout stocking was canceled. Hopefully the temperatures will drop soon so we can begin stocking here.
Kinnikinick Lake
Road is open. No report on fishing.
Lower Lake Mary
Not a lot of water left. No report.
Upper Lake Mary
Some pike are being caught in the shallows. Walleye are being caught by boat anglers and folks on the dam.
Williams area
Cataract Lake
We caught a lot of nice bluegill during our sampling. We also caught some nice-sized catfish in the shallow areas all around the lake. There was a big concentration of brown trout in the shallows near the county park on the opposite side of the lake from the Forest Service boat ramp. I did get a report of an angler catching decent-sized bluegill on the lake on worms under a bobber.
City Reservoir
Closed because of fire danger.
Dogtown Lake
Stocked 9/4 with rainbow trout. I spoke to an angler last week that was fishing near the boat ramp. He said he was catching trout by fishing on the bottom with PowerBait. He started using chartreuse PowerBait, but was also catching fish on other colors. During our sampling, the majority of the trout we caught were in the shallow areas near the inflow area of the lake. We caught both rainbow trout and brown trout in that area, with one brown trout that weighed about 2 pounds. Looks like the best place to catch trout right now is in the shallows in the evening.
Kaibab Lake
The lake is full. Stocked with trout last week (has been stocked with 38,000 rainbow trout since March). Most of the trout seemed to be concentrated near the dam. Lake had gotten warm so some anglers recommended fishing on the bottom. Green garlic PowerBait has been working. During our sampling we caught a lot of nice-sized crappie and bluegill in the shallow area of the lake. Crappie jigs or worms work for crappie and bluegill in the shallow area on the east side. The campground is open.
Santa Fe Lake
Closed because of fire danger.
Whitehorse Lake
We sampled Whitehorse in August. We caught a lot of bluegill during our sampling along with quite a few bass. The biggest bass we caught was a little over 3 pounds. Considering that the bass were stocked in 2018, that was a surprise. One of the crew caught a large bluegill fly-fishing while we were waiting for it to get dark enough to sample the lake. He estimated it was close to a 1-pound bluegill. The campground is open.
Lake Powell
Report courtesy of Wayne Gustaveson at www.wayneswords.com. The warm blanket of water was temporarily ripped off the surface by last week's cold blast from the north. Daily air temperature before that had been in the 100s, with low air temperature in the 80s. The water temperature had been holding in the 80s but is now 76.
Last week stripers were feeding on the surface at dawn and dusk. They were not dependable each day but when it was about time to give up, they would surface again. The surface action was short, only a half hour or so, but very rewarding when they finally surfaced. This pattern is repeating lakewide. A few boils randomly early and late. When the school went deep, more fish hit spoons when the school showed up on the graph. Smallmouth bass were cooperative in 20-40 feet of water off rocky slopes and ledges next to deep water. The standard plastic grubs and Ned rigs continued to entice bass.
Good fishing reported last week for bluegill and catfish near camp. Worms were the best bait. Best timing was after dark when the weather was cooler. One little boy was very surprised when a huge largemouth bass ate the worm he was using to catch bluegill.
Electrofishing surveys will be conducted at San Juan, Good Hope, RIncon and Wahweap, so no new report for this week.
Cottonwood/Verde Valley
Dead Horse Ranch State Park
Report courtesy of Arizona State Parks. Channel catfish were last stocked in August. Standard catfish offerings like hot dogs, nightcrawlers, uncooked shrimp, and prepared dough baits were working well for fish on the bottom. Try using a swivel and barrel sinker so the fish don't feel resistance when they pick up the bait. This gives them a chance to position the hook correctly for a good hook set. Bass fishing has been slow, but a few anglers are picking up fish with small crankbaits fished near structure. Bluegills are biting on mealworms and earthworms fished about 18 to 24 inches under a bobber.
Mogollon Rim/White Mountains
Several rim lakes and White Mountains lakes were stocked with trout in the last two weeks (see list further down).

Arizona.FishReports.com © 2023. All Rights Reserved.
Website Hosting and Design provided by TECK.net