Arizona Fish Report
Fish Report for 8-7-2020
AZGFD- August Fishing Report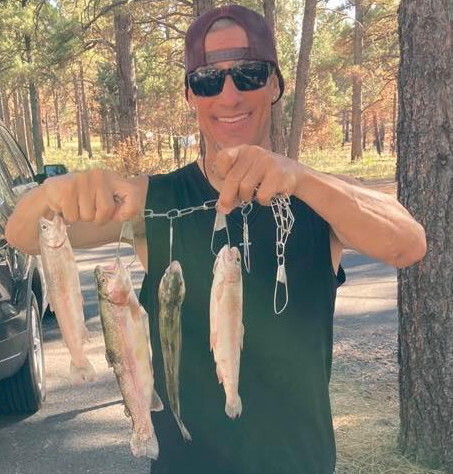 Ryan B. had a good day at Kaibab Lake on Aug. 6. Caught eight trout, released four (too small), kept four good-size ones with the biggest being 12-1/2 inches. Also caught some bluegills.
Photo Credit: Courtesy of Arizona Game and Fish
by Arizona Game & Fish Department
8-7-2020
Website

Hello Anglers!
Welcome to the inaugural issue of the Arizona Game and Fish Department's new Monthly Fishing Report. The report will be emailed monthly to subscribers (it's free to sign up) and posted on the AZGFD website. This report is not intended to be comprehensive, but rather a brief collection of regional highlights, tips, AZGFD news, angler reports/photos, selected items taken from the new Fish AZ Facebook Group (see below), and miscellaneous content. Some of the other tools we'll use to communicate with our fishing constituents are:
New Fish AZ Facebook Group. The group started in early June and already has more than 7,300 members. It brings together anglers to discuss "all things fishing" in Arizona. Share stories, post photos of the big one that didn't get away or your kid's first catch, provide angler reports on fishing conditions, ask questions, and more. So for "reel-time" updates, make sure to join the group - with hundreds of new posts a week, it's got everything you need to know about fishing in Arizona! Here's an added tip: Use keywords in the search bar of the FishAZ Facebook Group to find the most recent posts about a fishing spot you're planning to visit, or post in the group, and ask other members for advice.
Quarterly Fishing Forecasts will resume. We'll be posting a general description and seasonal quarterly forecast for fishing conditions at major public water bodies in the respective regions.
The old Fish AZ site will be phased out. The old Fish AZ site will be discontinued sometime in the coming weeks. If you have photos or fishing reports you'd like to submit, we encourage you to either post them on the new Fish AZ Facebook Group, or send them in to bfishing@azgfd.gov. 
Proposed amendments to fishing regulations for 2021-22; public can submit comments
AZGFD is proposing amendments to Commission Order 40 (sport fishing bag and possession limits, special regulations, and specific closures) for calendar years 2021 and 2022. The public is invited to review and comment on the proposed changes.
The department hosted a webcast on Aug. 6. If you didn't get a chance to see it, you can view it here (the presentation starts about 35 seconds into the video) Comments can be submitted by 5 p.m. on Aug. 28 either by email to fishregscomments@azgfd.gov, or by mail to: Arizona Game and Fish Department, Attn: Fisheries Branch, c/o Andy Clark, 5000 W. Carefree Highway, Phoenix, AZ 85086.The changes are also scheduled to be presented to the Arizona Game and Fish Commission at its Sept. 25-26 meeting.

View the proposed amendments.
Tips
It's a good time of year to get out of the heat, and the Flagstaff and Williams areas offer some great possibilities. Kaibab Lake is full and has been stocked with 36,000 rainbow trout since March. The lake has warmed up, so you should fish deep unless you see active fish on the surface. Green garlic PowerBait has been working. Crappie jigs or worms have been working for crappie and bluegill in shallow areas of the lake on the east side. Flies and lures are working well from boats and tubes when trolled slowly. The campground is open.  
City Reservoir is open and there are multiple reports on Facebook of folks catching catfish on hot dogs, liver or worms. The lake was stocked with catfish right before it was closed due to fire risk. Dogtown Lake has been producing trout. Fish deep with PowerBait or inflated worms. Flies and lures are working well from boats and tubes. Boat anglers at Whitehorse Lake were catching crappie, bass and bluegill on flies and lures fished from boats. The camp ground is open.
Some pike are being caught at Upper Lake Mary in the shallows. Walleye are being caught by boat anglers and folks on the dam. The road is open at Ashurst Lake, which has been stocked with 41,000 trout so far this year. According to the campground host, folks fishing off of the points and deeper areas of the lake are catching trout on garlic PowerBait near the bottom of the lake. Lures and flies are producing trout when trolled from boats and tubes. The campground is open. Pro tip for these areas: The bite is subtle this time of year. When trolling flies or lures, it is difficult to go too slow. Try trolling with only one rod and keep it in your hand so that you do not miss the bite.
The campgrounds and picnic areas in Oak Creek Canyon are open. Oak Creek was stocked this week. Roads are open to Blue Ridge and Knoll Lake, but no reports of fishing as of yet. 
Wayne Gustaveson (www.wayneswords.net) provides this report from Lake Powell. Extreme heat, busy boating activities, and finicky fish have made it difficult to catch fish recently. Bass fishing is still good with plastic baits fished at 20-40 feet. Bass are more active in the evening than the morning. Larger bass are holding in cooler water at 25 feet or deeper. We did catch a few bass trolling while looking for stripers. My recommendation for this week is to fish in the evening. When the full moon goes away, morning fishing will improve. Striper boils will return, particularly in the northern lake. Right now, there are a few boil reports from Buoy 114-118 downstream from Good Hope Bay. The rest of the lake is quiet.
Stripers at Powell are trapped in deeper water by warm surface temperatures. Use bait to find them. The best striper fishing this week was from the Wahweap fish dock beginning at dusk. Drop one-inch cut bait down to 40 feet to find 3-pound stripers. Use a green light at night to attract stripers and catfish to your location lakewide. Bait fishing may be the best striper technique lakewide. Chum the water and then use cut bait from 20 -60 feet. Some potentially good locations include: Warm Creek Wall (cliff face in main channel just before the entrance to Warm Creek), Labyrinth Wall (in east bay before entering the canyon), Buoy 25 cove, Moki Wall (corner leading to canyon entrance). Cooling temperatures this week should lead to improved fishing conditions. 
In the southern part of the state, angling for largemouth bass and bluegill at Arivacaand Pena Blanca lakes has been great. Fish the top 10 feet of water at both lakes, early or late in the day this time of year, as that's where the fish will be. An 8-pound largemouth was recently submitted to the Hawg Bass Challenge from Arivaca.
More Reports
Arizona Game & Fish Department Reports
for Friday, August 7th, 2020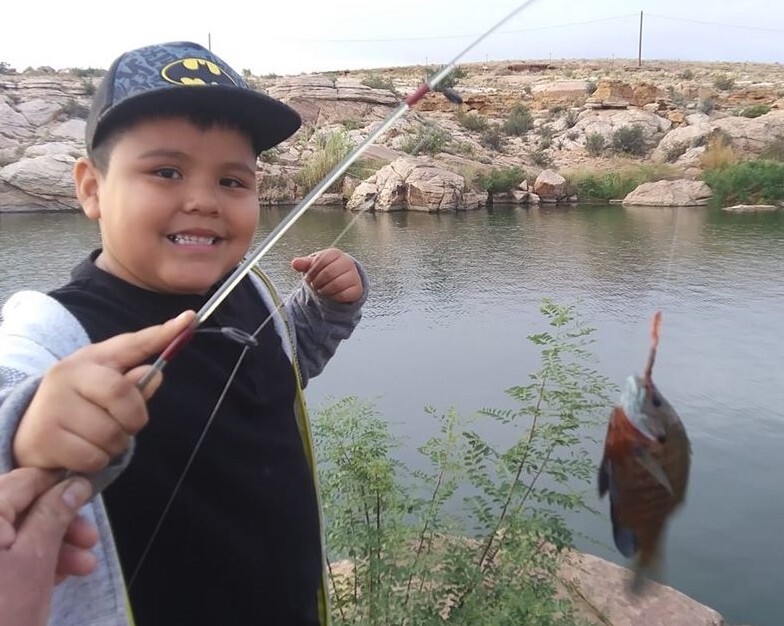 Greer Lakes
:
Nice Brown on Greer Lake
Woods Canyon Lake
:
Woods Canyon Lake Angler Report
Ashurst Lake
:
Great Day at Ashurst Lake
Clear Creek Reservoir
:
Nice Bluegill Catch at Clear Clear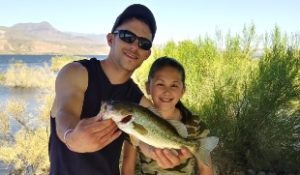 7-8-2020
Matt B. was at Roosevelt Lake a few weeks ago with his daughter Kolbee (shown with Matt in photo) and......
Read More

Arizona.FishReports.com © 2023. All Rights Reserved.
Website Hosting and Design provided by TECK.net