Arizona Fish Report
Roosevelt Lake Fish Report for 10-21-2016
Roosevelt Lake Fishing Report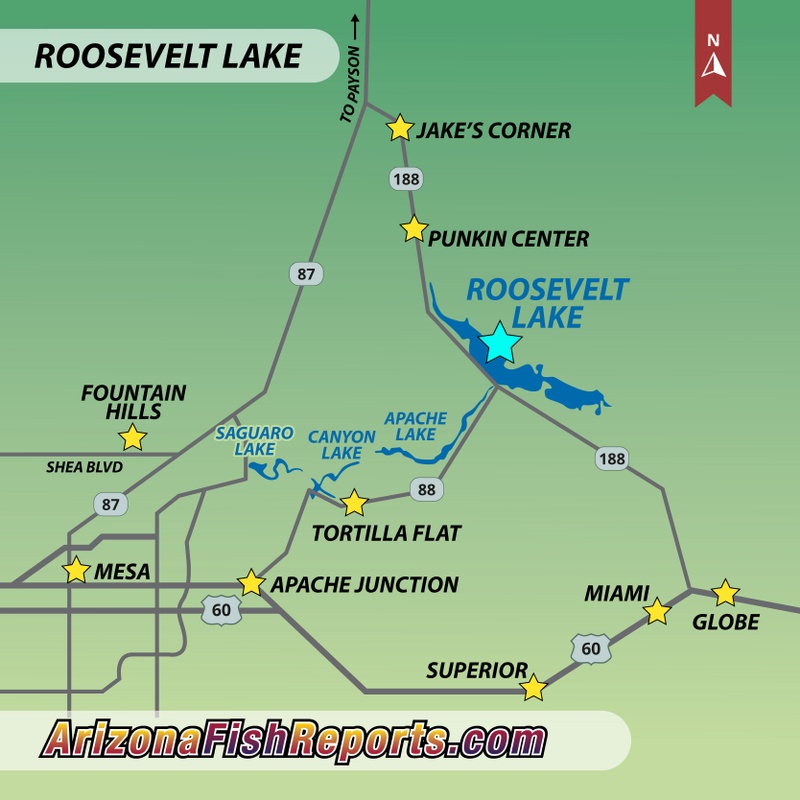 by Arizona Game & Fish Department
10-21-2016
Website

Oct. 13 report from Jim Goughnour of Rim Country Custom Rods:

The bass fishing conditions on Roosevelt Lake have been upgraded to excellent. Anglers are reporting that the fishing has not been this good since the spring, and in a way, they are correct. All species of fish sense the change in water temperature.

In the spring, bass are actively feeding after a long period of slow metabolism. In the fall, fish are again feeding heavily in preparation to the colder months ahead. Another factor anglers are reporting is the full moon phase that is having a positive impact on the fishing conditions. Both bass and crappie fishing may be the best that it has been all year.

The water temperature continues to fall and now is in the low 70s in the morning, increasing to mid 70s in the afternoon. Fish are being caught in all depths of water and on a variety of baits. Anglers are reporting success fishing shallow using crankbaits, jerkbaits and spinnerbaits. Others who are fishing depths down to 20 feet are using a dropshot, Texas rig or jig. Still other anglers are reporting large numbers of bass being caught using Carolina rig or spoons fishing in 30 feet and deeper water depths.

Crappie anglers are reporting success locating crappie schools in about 20 feet depths using a small curly tail bait. Several colors were reported successful including green-yellow, black-blue-chartreuse, blue-silver color combinations.

The lake level continues to fall due to downstream demand. Currently it stands at 35 percent full. The Salt River is flowing at 100 percent of its normal rate for this time of year while the Tonto Creek has slowed to about 50 percent. The water clarity in the main lake remains very clear, with the slightly stained water on the Salt River end of the lake.

Have a great week of fishing and I hope to see you on the water.

(2,103 feet, 35-percent full).
Arizona Game & Fish Department Reports
for Thursday, October 6th, 2016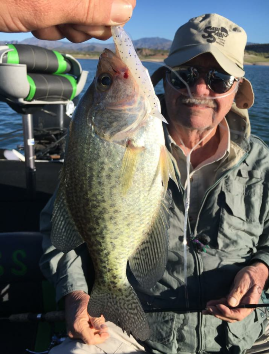 Roosevelt Lake
:
Roosevelt Lake Fishing Report
Lake Pleasant
:
Lake Pleasant Fishing Report
Saguaro Lake
:
Saguaro Lake Fishing Report
Bartlett Lake
:
Bartlett Lake Fishing Report
Canyon Lake (AZ)
:
Canyon Lake Fishing Report
Apache Lake
:
Apache Lake Fishing Report
Horseshoe Lake (AZ)
:
Horseshoe Lake Fishing Report
Dogtown Lake
:
Dogtown Lake Fishing Report
Kinnikinick Lake
:
Kinnikinick Lake Fishing Report
Bear Canyon Lake
:
Bear Canyon Lake Fishing Report
Bear Canyon Lake
:
Bear Canyon Lake Fishing Report
Chevelon Canyon Lake
:
Chevelon Canyon Lake Fishing Report
Willow Springs Lake
:
Willow Springs Lake Fishing Report
Woods Canyon Lake
:
Woods Canyon Lake Fishing Report
:
Fool Hollow Lake Fishing Report
Rainbow Lake
:
Rainbow Lake Fishing Report
Show Low Lake
:
Show Low Lake Fishing Report
Becker Lake
:
Becker Lake Fishing Report
Big Lake
:
Big Lake Fishing Report
Carnero Lake
:
Carnero Lake Fishing Report
Concho Lake
:
Concho Lake Fishing Report
Crescent Lake
:
Crescent Lake Fishing Report
Greer Lakes
:
Greer Lakes Fishing Report
Hulsey Lake
:
Hulsey Lake Fishing Report
Lee Valley Lake
:
Lee Valley Lake Fishing Report
Luna Lake
:
Luna Lake Fishing Report
Lyman Lake
:
Lyman Lake Fishing Report
Black River
:
Black River East Fork Fishing Report
Little Colorado River
:
Little Colorado River Fishing Report
Show Low Creek
:
Show Low Creek Fishing Report
Silver Creek AZ
:
Silver Creek Fishing Report
Lake Mead
:
Lake Mead Fishing Report
Lake Mohave
:
Lake Mohave Fishing Report
Colorado River - Willow Beach
:
Willow Beach Fishing Report
Colorado River
:
Colorado River Fishing Report
Topock Gorge
:
Topock Gorge Fishing Report
Topock Marsh
:
Topock Marsh Fishing Report
Dead Horse Ranch State Park
:
Dead Horse Ranch State Park Fishing Report
Verde River
:
Verde River Fishing Report
Fain Lake
:
Fain Lake Fishing Report
Goldwater Lake
:
Goldwater Lake Fishing Report
Granite Basin Lake
:
Granite Basin Lake Fishing Report
Lynx Lake
:
Lynx Lake Fishing Report
Watson Lake
:
Watson Lake Fishing Report
Willow Creek Reservoir
:
Willow Creek Reservoir Fishing Report
Lake Powell
:
Lake Powell Fishing Report
Alamo Lake
:
Alamo Lake Fishing Report
Lake Havasu
:
Lake Havasu Fishing Report
Cluff Ranch Ponds
:
Cluff Ranch Ponds Fishing Report
:
Patagonia Lake Fishing Report
Parker Canyon Lake
:
Parker Canyon Lake Fishing Report
Pena Blanca Lake
:
Pena Blanca Lake Fishing Report
Riggs Flat Lake
:
Riggs Flat Lake Fishing Report
Roper Lake
:
Roper Lake Fishing Report
Rose Canyon Lake
:
Rose Canyon Lake Fishing Report

Arizona.FishReports.com © 2023. All Rights Reserved.
Website Hosting and Design provided by TECK.net