Arizona Fish Report
Lake Powell Fish Report for 9-28-2013
Top Water Lures were working near Lake Powell's Bullfrog Marina for some great Striper action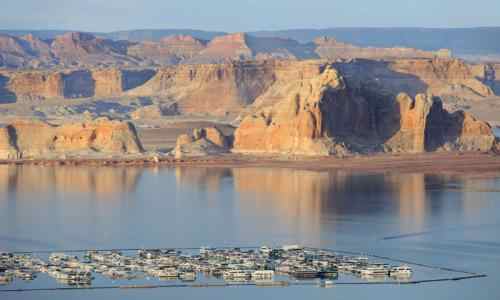 Arrived Friday afternoon, got on water around 6:30. Found a boil at red buoy BF2 in bullfrog. Got 7 on top waters before they sounded. Spooned up another 30 before dark thirty. Saturday morning spooned up another 7 before going to check out Lake Canyon. Nothing there, even with lots of chum. Went back to ole BF2 for the evening. Gave away several spoons so others could get in on the fun. Finished the day with 45.

Sunday morning went to the point beyond Moki canyon, and chummed and got 18 larger stripers, they were not in that great of shape but were able to get so most filleted . Sunday evening we returned to the scene of the crime, but no fish were being graphed. We went to the north side of the big finger just north of BF2 into the little bay and found them. Boated 33 great young stripers in 25 minutes.

Now the bad news. 2 out of 3 electric fillets knives stripped their gears and the 3rd became so dull it wouldn't cut. Monday on go home day we had to make one last try. Went back out and couldn't find the kids on the north side of the finger so we graphed around to the south by the buoy and then in towards the haystacks along that finger. There they were. We started spooning and had a few in the boat when a boil popped up over by the passage going into the haystack bay. Slipped up on them and the top water craziness started. The seagulls where flying low grabbing the shad out of the air right above the stipers as they launched into the air for cover. What a fantastic time. Lasted about 20 minutes. Then back to spooning, which still was hot.

Finally had to get ready to get on the road to get home. One of the boilers was the skinniest fish I have ever seen at the lake all others were in great shape. We had a virgin striper fisherman with us, and took him home feeling used and abused. Boated another 45 that morning, and made me late getting home for my granddaughters birthday party. Only trip to the lake this summer, but oh what a trip it was.


Arizona.FishReports.com © 2023. All Rights Reserved.
Website Hosting and Design provided by TECK.net