Arizona Fish Report
Lake Powell Fish Report for 8-11-2021
Bait fishing is best in the southern lake.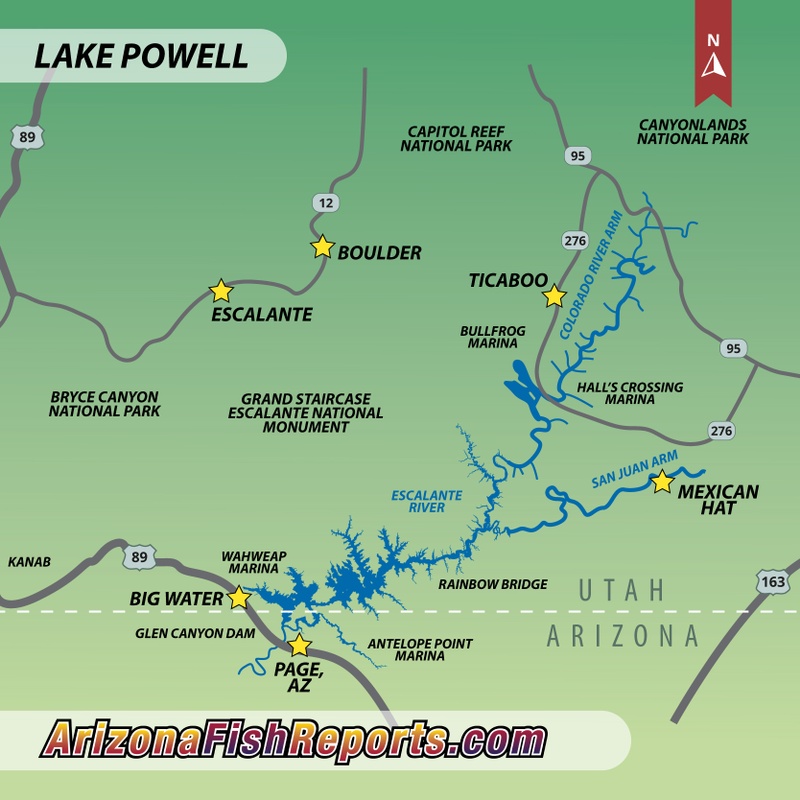 by Wayne Gustaveson
8-11-2021
Website

August 11, 2021
Lake Elevation 3552
Water Temperature 80-84 F


Lake Powell water level is now at 3552 MSL. Water released today from Glen Canyon Dam was 26,000 Acre Feet while inflowing water was only 13,000 Acre Feet. Therefore, the lake level continues to drop. Within a few days the lake level will drop to 3551 which has been mentioned as the end point for the Wahweap launch ramp. NPS is working on the old boat ramp which is located between Wahweap Main ramp and the Wahweap Marina houseboat docks. The old launch ramp will be accessed by driving down the Waheap ramp and turning right on a dirt road heading toward Wahweap Marina. Know before you go. Wahweap Main ramp will close soon. The old ramp will be the only launching option during the last two weeks of August. Work is now underway on the Legacy ramp which is located halfway between Main Ramp and Stateline. Similar constraints are likely at Bullfrog. There will be some form of launch ramp open at Wahweap and Bullfrog during the last two weeks of August thanks to the hard work performed by NPS.

We headed out early Tuesday morning to find how the fish were responding to continually falling water levels. This trip we headed into Warm Creek initially looking for boils. Within 200 yards of entering the canyon inlet we saw small schools of yearling stripers hitting the surface. The surface disturbances were small and quick but we saw surface feeding stripers and got very excited about catching some fish on top water lures. We rapidly approached over 5 small boils but by the time our lures hit the water the small stripers were gone. We caught no surface feeding fish. We deployed spoons hoping to put these lures into the striper schools that were chasing small shad. No Luck! We trolled while waiting for more schools to boil on top. No more boils came up and we caught no fish trolling. It was very disappointing. We looked at each other and all came to the same conclusion. Our only chance to catch stripers in Warm Creek was to use anchovies.

Surface lures were removed from our rods and replaced with Lead head jigs. Anchovies were cut into 3 or 4 pieces and impaled on the jig head. We then dropped bait down to 30-40 feet where the fish traces were commonly seen on the graph. Within 3 minutes the first striper hit the bait and was successfully landed in the boat. The game was on! With three anglers in the boat, we caught at least one fish every five minutes. We were hoping to catch the small fat stripers seen boiling but the larger stripers were holding down at 30-50 feet where the water temperature was cooler making it bearable for the larger fish to hang out. Adult stripers cannot stay in 80-degree water for more than a few minutes. Since shad numbers are limited in the southern lake, many of the stripers caught were thin, but still fun to catch.

Reports from the north lake indicated that adult stripers were still boiling on the surface. They come up, eat a few shad, then dive down to cool water to recuperate. After the warm water fever goes away stripers resurface and eat more shad. These fish are very susceptible to hit topwater lures. Dropping spoons down to the deeper stripers results in catching lots of stripers.

Bass fishing continues to excite anglers as bass work the shoreline each morning and evening. Try surface lures in the early morning and evening. Cast right next to shore where bass are looking for sunfish and shad in morning and evening twilight. Fish shade lines during the day. Smallmouth Bass will always be in rocky habitat but your chance of catching fish increases when rocky habitat and shade are combined.

Catfish are very active in the summer heat. You can find them in shallow water at night near your camp. Use leftovers from dinner to entice catfish to come to your dinner party from dusk to dawn.

 

Arizona.FishReports.com © 2023. All Rights Reserved.
Website Hosting and Design provided by TECK.net